It's important to know who you're working with so you can decide if we might work well together.
Amy Hanson, MA, LMT, CST-D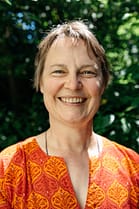 *Certified with the Upledger Institute for CranioSacral techniques and at the diplomate level
*Advanced-level training with the Upledger Institute
*Master's degree from UC Berkeley (Microbiology); science/medical writer at the Harvard Health Letter, the Harvard Medical School News Office, and the "Bill Nye the Science Guy" TV show.
Geek
Ages ago, I was a Microbiology major at the University of Illinois. I loved the work and went to graduate school at UC Berkeley. But the research wasn't adventurous enough for me, so I left with a master's to find a different kind of life.
Writer
I'd always loved to write and became a science writer at The Daily Californian in Berkeley, CA. Then I worked at The Daily Ledger in Antioch, CA. When my husband and I moved to Boston, I worked as a science/medical reporter at the Harvard Health Letter and the Harvard Medical School News Office. We did have computers back then, but no internet. We had to find reference articles in the library! On paper! Gak!
Geek Writer
In Tacoma, I worked as a science researcher and background writer at the "Bill Nye the Science Guy" TV show during its first two seasons. The show was written, and a lot of it filmed, in a warehouse near the King Dome (before they blew up the King Dome). I tried hard to stay behind the scenes but was arm-twisted to be a stressed-out computer person in the "Structures" show. I'm in their Structures show around time point 8:03. Don't blink or you'll miss me! (I'll try to find it again, the link stopped working. arg.)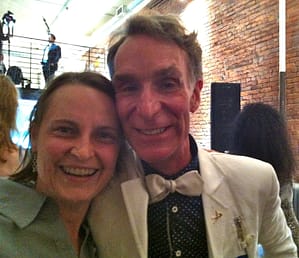 More Geeking
While home raising the kids, I wrote science fiction to keep my brain alive. I was a terrible fiction writer and have no published work (a great relief to literature at large). On the bright side, I helped to start Broad Universe, a cooperative group promoting women authors in science fiction, fantasy, and horror.
Granite
When I left the science fiction world, I got a job at a granite company in town. I ran a computerized machine that cut out sinkholes and arcs; the guys in the back shop considered machine work to be girly, so that worked out fine. I loved the colors and patterns of granite, but after a couple of years, I wanted to work in a warm room in the winter, have groovy co-workers, and work in a problem-solving and hands-on job.
Massage
I ended up in massage school at Cortiva-Seattle. Massage brought me back to the science in a way that valued intuition and energy. Taking advantage of my earlier training, I wrote a case report about one of my clients for the massage school research class, and it won a national student case report contest in 2009. It was later published in the Journal of Bodywork and Movement Therapies, a peer-reviewed journal. (Woot!)
CranioSacral Therapy
I started training in CranioSacral with the Upledger Institute in 2010 and immediately loved it. I couldn't sign up for classes fast enough. Through CST, I've discovered a lot of uber-geek anatomy nerds who also love weird energy stuff. It's So. Much. Fun!
Travels and Hobbies
When I'm home, you can usually find me at my sewing machine making a quilt (excessive numbers of quilt pictures available on request). I have a basset hound who has a birth defect and is incontinent, but she's a sweetheart.
So that's me. If I'm the kind of person you'd like to work with, give me a call! I'd love to work with you!